With over 25 years of experience, CEO is proud to be the provider of the iconic Queen's Applied Science Jackets, also informally referred to as Golden Party Armour. The jackets have been a staple of the Queen's Engineering community, dating back over a century.
The style of the iconic varsity jackets has changed throughout its history. From being a fiber jacket during the 1950's, to the gold leather they are today, the Jacket has changed with every generation of Queen's Engineering students.
While the jacket's appearance has changed throughout its history, the premise remains the same and enables Queen's Engineering students to show pride in their faculty. To this day, the jackets remain a cherished tradition at Queen's, uniting old and new generations of Queen's Engineers.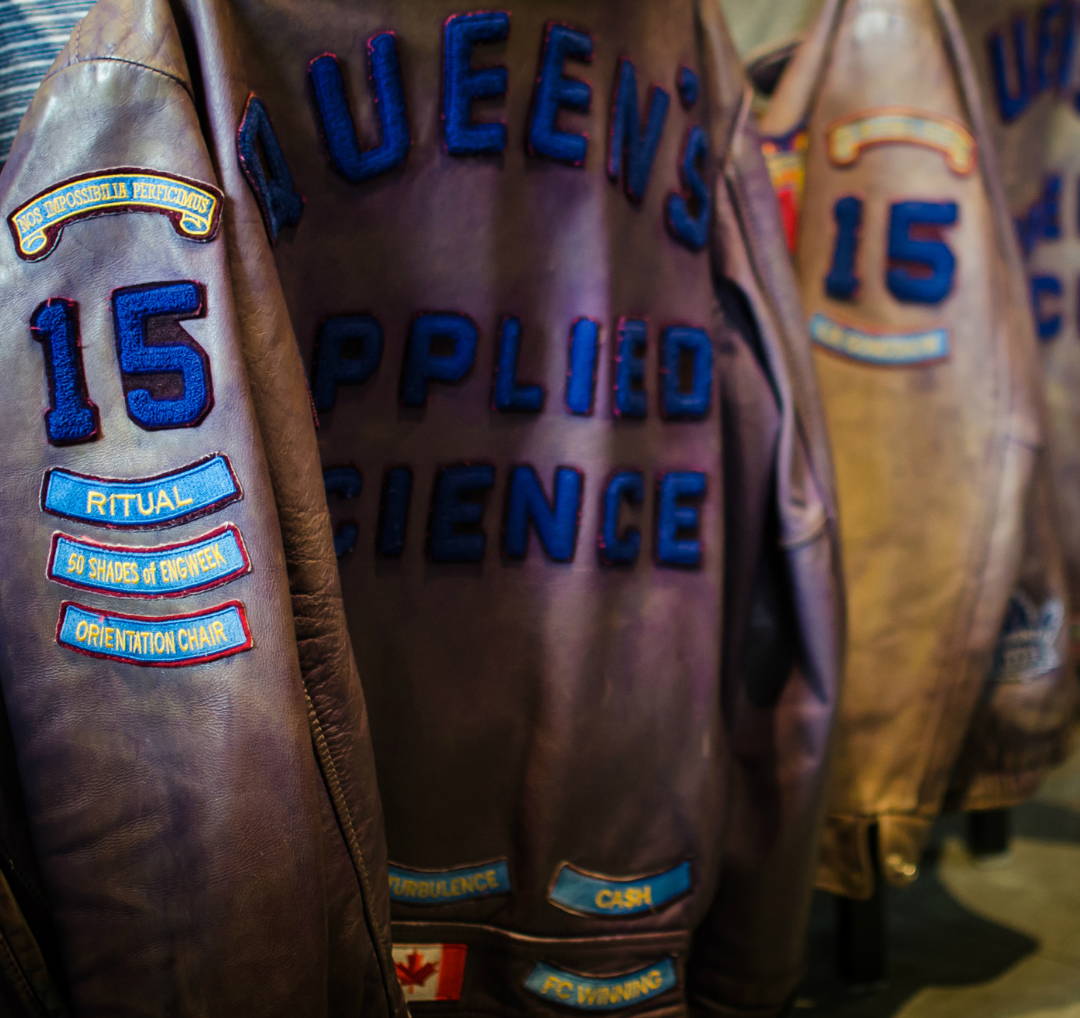 Jacket fitting information
Jacket Fitting Dates

We will be hosting a second round of Jacket Fitting for students in all years taking place on Monday, November 14th from 5:30 PM - 9:30 PM in Clark Hall Pub. Please note that Clark Hall Pub does not have an elevator. If you require any kind of assistance due to physical accessibility complications, please email Benny at ceo@engsoc.queensu.ca.
Jacket Cost and Payment Information

Please Note the following:
These prices include tax
Adjustments to sleeve are made at no cost
Each additional inch added to body length, will be $10
We only accept debit or credit for jacket payments
Return Policy
Due to the custom nature of each jacket, and the fact that each one is made to order, CEO has a strict no-return policy for applied science jackets, except in extreme situations.
Jacket Bursary

If you require financial assistance, the application for a Jacket Bursary will open two weeks before jacket fitting. To apply, please fill out the form below. For other bursary-related questions or inquiries about the selection process, please contact the Director of Social Issues at dosi@engsoc.queensu.ca, or the chair of the Bursary Committee at bursary@engsoc.queensu.ca.